Suit of Japanese samurai armour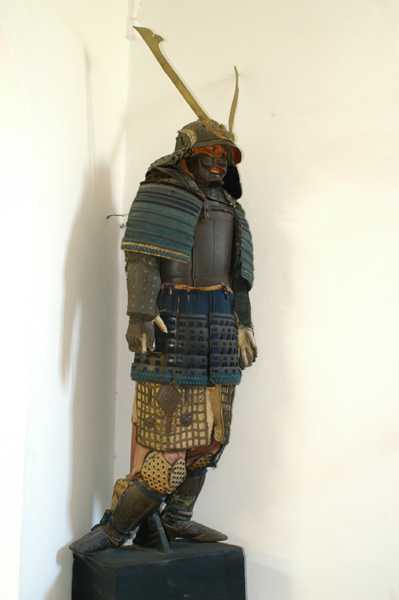 Material and technique:
In iron, gilded bronze, silk and leather
Armatura completa costituita da diverse parti di tutto il corpo, dalla testa ai piedi: elmo (MABIASI), con due prominenze bronzee divaricate ad angolo acuto (KABUTO NOHATI) terminanti mistilinee (KUWAGATA) e decorate alla base ad agemina con falde laterali (KABITI - ODOSI e SIKORO). Protezione facciale a maschera che lascia liberi solo gli occhi (HANPO) e golette SINOBI - NO -O, pettorale con lastre incernierate (HATOKADO') con spallacci (SIFUKESADE) lavorati in lamine tenute insieme da lacci di seta blu. La cintura (YURUGI - NO - ITO) tra il pettorale e la panciera (SUGIKI ODOSI) è costituita da lacci di seta blu passanti nella panciera costituita a sua volta da lastre in ferro, con piastra centrale (GESAN), al di sotto copre le cosce una sorta di maglia (ITAHAIDATE), realizzata in stoffa e rete metallica; le ginocchiere o ginocchietti (IETTU - SURREATE) sono in damasco internamente, e in stoffa imbottita e trapuntata con motivi ad alveare con bottone, costituito dal laccio blu passante. Gli schinieri sono in lastre di ferro e le scarpe in cuoio. Le braccia sono rivestite da bracciali (SINE GOTE) anche essi in lastre di ferro borchiate e anche le manopole (TEKO').
The hall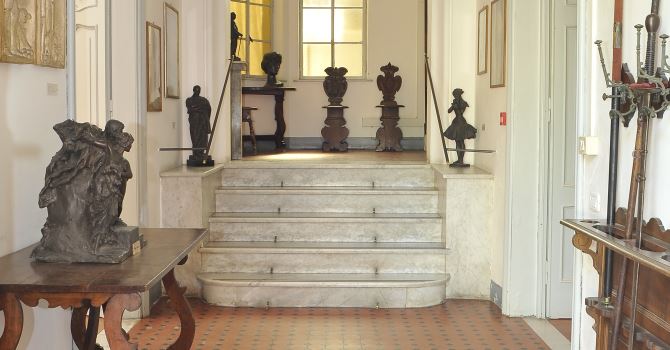 At the side of the stairs which run up to the first floor of the apartment are collected a number of precious works executed by Canonica, for example the model for the Monument to Constantine Perazzi, president of the Provincial Council of Novara (1901).
The other halls
You may also be interested in