The Fortezzuola - The small fortress
The Fortezzuola is known in the seventeenth century documentation as the "Hen House" and it is where ostriches, peacocks and ducks were reared for the shooting parties of the Borghese family.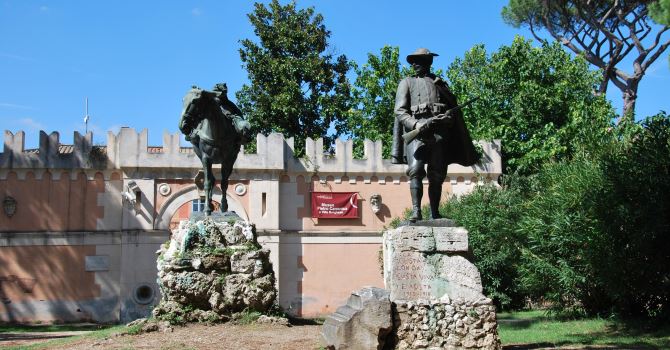 Its current name comes from its characteristic palisaded medieval style turret, which was created at the end of the Eighteenth century, and is attributed to Antonio Asprucci. In the course of these works, Felice Giani in 1793 decorated the facade with eight Karyatid heads above the doors and windows.
In 1919 the building, which was ebing used for administrative offices, caught fire and was subsequently abandoned. In 1926 permission for its use was granted to the sculptor Pietro Canonica, who had the structure repaired and transformed the stables into exhibition rooms. After his death in 1959, the collection of his works there became the nucleus of a museum dedicated to the artist. His wife, who died in 1987, additionally donated to the City of Rome the furnishings of the apartment where they had lived.