Lunch room
In the Lunch Room campeggia a massiccio bolognese table in seventeenth century walnut. On the table sits a portrait of Baronessa Niemptsch (1903). On the far wall is a plate cupboard, in which are displayed sixteen pewter plates (of piemontese XVIII century manufacture).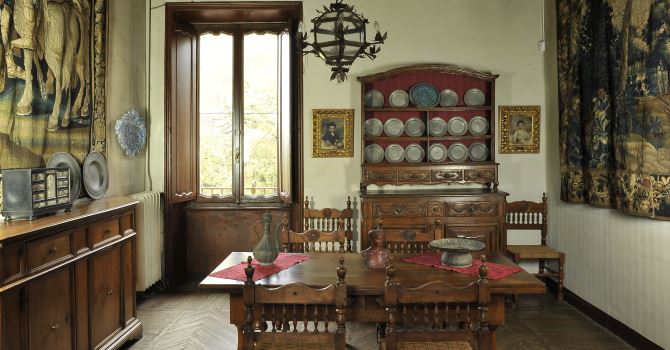 In the centre is a persian plate made of copper with arabesco decorations in turkish enamel. Beside the cupboard are two portraits in oil on a table decorated with the same subject: to the left is the Child in white and to the right the Child in Black. The two works, which date to 1895, are by Vittorio Cavalleri (1860-1938), a Turin painter and a friend of Pietro Canonica, for whom he made other paintings on display in the apartment.
To the left of the room is a large cupboard of trapezoidal design and Venetian manufacture (which dates of the beginning of the seventeenth century). At the side of the credenza are two large savoy plates in white and blue painted majolica (end of the XVII century). On the left wall hangs a tapestry attributable to a french XV century school. On the wall opposite hangs another tapestry of Flemish manufacture and from the middle of the seventeenth century.