The Studio
The Studio has been maintained as it was when the artist was working here. The room is part of the antique building which once belonged to the Borghese family.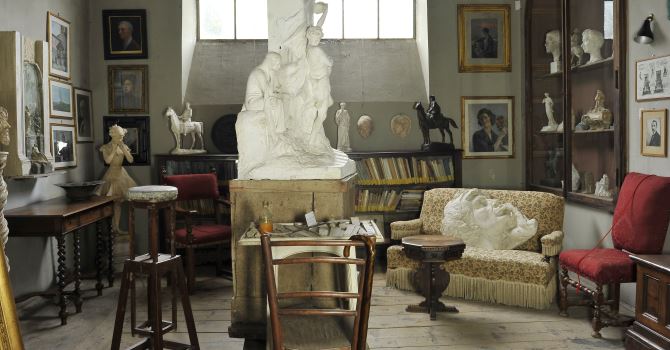 The ceiling of the room, which is a unique original and was not restored by the sculptor, is made of wooden panels and was painted around the years 1833-39, when the villa had become the property of Francesco Aldobrandini Borghese. The emblems of the Borghese family are shown on the ceiling – the eagle and the dragon, the eight pointed star of the Aldobrandini family and the three heraldic deer which make up the La Rochefoucauld coat of arms.
In the centre of the Studio is the side table with the tools Canonica used for his work, still dirty with plaster and the last pieces of clay remaining from his moulding of San Giovanni Bosco, the last work to which the artist dedicated himself. In the centre of the workshop is the sculptor's easel with a turntable base on which are displayed the chalk sketches of the slab of the Monument to Giovanni Paisiello.
Also conserved in the studio are the preparatory sketches for work translated by the artist into marble or bronze and studies for sculpture that was never created. On the walls several portraits are painted, as well as self portraits and landscapes executed by Canonica "during his leisure hours". A canvas showing a Study of hands and feet, given to the artist by his drawing teacher at the Albertina Academy, Enrico Gamba (1831-1883) and another canvas entitled Washerwomen of Turin (1891), signed by Demetrio Cosola (1851-1895) are the only paintings on display in the workshop that are not by the artist.