Statua di Ercole coronato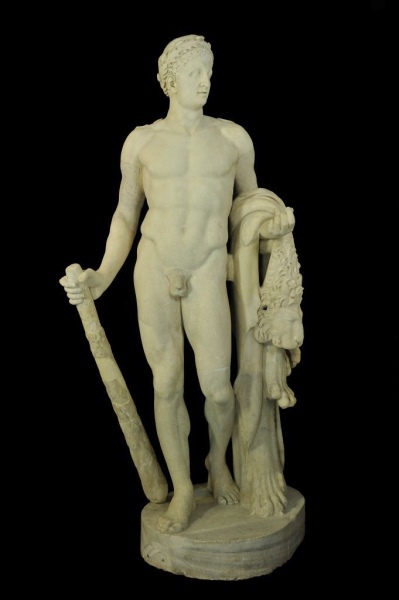 Material and technique:
marmo bianco - non identificato a cristalli medi
Size:
h. cm 185, largh. cm 95, spess. Cm 74; h. base cm 14,5
Origin:
Palazzo Ceuli in via Giulia, dal 1607 Collezione Borghese
Collection:
Deposito delle sculture di Villa Borghese
La statua rappresenta Ercole, che tiene nella mano destra la clava, mentre il braccio sinistro è piegato e sostiene la pelle del leone.
 La testa con corti capelli è volta a sinistra e cinta da una corona di foglie di quercia. Il peso poggia sulla gamba destra, mentre la sinistra è flessa e leggermente spostata indietro.
 La statua, copia romana di un'originale greco di tipo policleteo, appartiene al gruppo di opere che il cardinale Scipione Borghese acquistò nel 1607 da Lelio e Tiberio Ceoli per 9000 scudi ed è documentata in un'incisione di Philippe Tomassin conservata presso l'Istituto Nazionale della Grafica. La statua appare rilavorata in più punti; in particolare in un'età imprecisata e comunque posteriore al 1590 (data dell'incisione del Tomassini), è stata modificata la precedente testa; infatti nello spessore della capigliatura è stata ricavata una doppia corona di quercia ed è stata modificata l'acconciatura, in origine caratterizzata da sottili tenie che scendevano sulle spalle di cui restano solo alcune tracce all'altezza delle spalle.
A partire dal 1925 la statua è documentata sul lato orientale del piazzale Scipione Borghese dove rimase fino al 1986 quando venne rimossa per essere restaurata e sostituita in situ da una copia.
The hall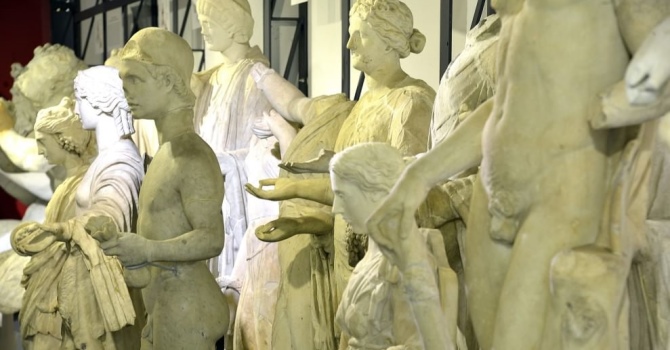 Il deposito delle sculture di Villa Borghese raccoglie circa ottanta opere provenienti in gran parte dalla Collezione Borghese, originariamente ubicate a decoro della villa. Nonostante le spoliazioni subite dal parco nei secoli il patrimonio delle sculture di Villa Borghese comprende ancora oggi un gruppo significativo di opere, per la maggior parte copie romane del II-III secolo d.C. da originali greci del V- III sec. a.C., alcune delle quali provenienti dalle collezioni del cardinale Scipione Borghese, figura principe del collezionismo europeo del Seicento.
The other halls
You may also be interested in